I've got a leather sports steering wheel fitted which has recently developed a fault.
On the topmost part of the wheel ( between say 10 o'clock and 2 o'clock ) the leather & the inner padding seems to have internally parted company with the inner steel rim. The best way I can describe this symptom is that it is now possible to firmly grasp the defective upper portion of the wheel with both hands & wring it back & forth ! The inner steel rim has not broken nor has it become distorted - as far as I can tell.
I hope someone can suggest a cure for this problem for although this wheel has been in the car for many years, it still looks good - too good to discard.
David2010
_________________
Click here to see my latest project!
. . . . . . . . . . . . . .
Click on the banner above to see my photo gallery.
Admin




Posts

: 1194


Points

: 4741


Join date

: 2008-10-27


Age

: 59


Location

: Johns Island, SC, USA



hi dave,jason here from the sunny south east:D .

what ive done before is to inject a glue/resin into the wheel,from behind,if you know what I mean.

arldite,or evostick contact adhesive in a suring you get in chemist,make a slit on back of wheel and inject,cut the foam that's on the steel rim also and let glue flow in.

after it has set glue cut closed.

wheel back as good as new,and its a invisible repair,ive done it a few times.

jay
Thanks Jay
That sounds like a good solution.
Fortunately, one of the items which I used to sell for a living (through a hospital supply company) were surgical syringes.
I'll take off the wheel to-morrow & have a go injecting Evostik or Locktite liquid adhesive into the top half of it.
It might be possible to avoid cutting the leather outer skin but to simply inject adhesive through it & this could give an invisible repair.
In any event it can't hurt to give it a try !
Will let you know.
David2010
hi dav,how did you get on with the steering wheel repair??


jay
No Jay - I'm afraid I have to report a " no further progress " on this problem.
The thing is - the squidgy steering wheel is now in my daughter's MX-5 & she is doing as Brian (Red Riley) has suggested - i.e. " holding it at the sides ".
hi dave,i see,you have just passed the problem down the line:lol: ,sure its one way of sorting the problem.

you now have her wheel?? im also into mx5s,great little cars.

jay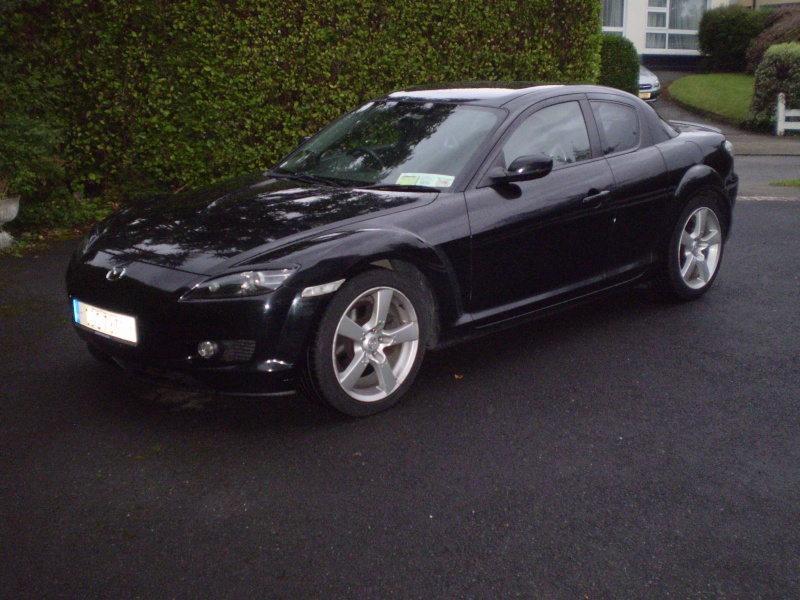 I must confess to a love/hate relationship with my RX-8 which I have owned for almost 5 years.
It is now 8 years old with 67,000 miles on the clock.
Love the breath-taking acceleration/performance (The Stig test pilot on BBC'S Top Gear Show managed a 1min 28sec lap - not bad for 1400cc)
Hate the 24 mpg & the no-forgive feature which if you turn-off the just-started-up motor - there is a real chance of a flooded engine which
requires you or your local friendly garage to jack-up the car ; remove the LH front wheel to give access to the 2 "trailing" plugs; then pour in
with a large syringe about 30ml of engine oil into each of the two trailing plug holes ; this to dilute the excess petrol in both combustion chambers
(the engine comprises 2 x 700cc Wankel {rotary}combustion chambers in tandem).The engine should then start & normal service is resumed. I should know this as I've managed to flood the darn thing not once but twice since I bought it back in 2009,
Last edited by David2010 on Tue Oct 22, 2013 12:44 am; edited 1 time in total (Reason for editing : spell check)
hi dave,i know all about the rx 8's and there good points and bad points,the coil packs packing up,putting on a quicker starter motor,as you say the oil down into the combustion chambers,the tips coming off the rotors and getting fired out into your cat/backbox.

I used to work with a chap called eddy in bray,he used to and still does all the rotory engine rebuilds.

eddy is in a wheel chair,and I used to take out,and refit the engines!

have you had it just not start at all,they just loose compression all together:shock: ,even the oil trick wont work,they mite start on a tow,if not its a 2.8k rebuild:shock: .

she must be the quick 1 with 6spd box etc?

stunning car.

jay

---
Permissions in this forum:
You
cannot
reply to topics in this forum