Good Day All,

A quick background history as to were we currently are. Were approximately about half way through an extensive rebuild of a 1965 Mk2 Elf, we've done a restoration job before on a 1987 mini City E but that wasn't anywhere near the depth of what this has turned out to be.

A good friend of the family is an old school mechanic and proved invaluable to this project, firstly he's allowed the rebuild to take place in his work shop as we don't posses the space at home and secondly his wealth of knowledge and experience is amazing. Something which one day I want to aspire to be.

We acquired the Elf, which is now known as Molly with the surname Coddle, several year ago from a widow who's husband had sadly passed away leaving her with the car, she wanted it to go to someone who'd enjoy it and opposed to a dealer to make a quick buck from. All was not as it seemed and was soon apparent that a lot of work would be required, including the usual body panel replacement of lower sides, both wings, both sides inner and outer A panels, both sides inner and outer sills, battery box to name just a few. other areas needed welding working or reinforcing such as the part of the tunnel were the hand brake bolts to which had split as a stress fracture, rear wheel arches, scuttle panels, rear valance. Not to mention a complete rebuild of the engine and gearbox and will require virtually a new interior, as the head lining has aged badly and the leather interior has cracked beyond repair.  

There's about 3 years work gone into the project already so I'll upload a mass of photo's and then try and upload more when work progresses. Correction, i'll try and upload as soon as I've worked out how to do a mass up load from Photobucket
Really want to see the progress. Sounds like quite a bit of money has been spent on it.



Posts

: 624


Points

: 3271


Join date

: 2012-02-21


Age

: 26


Location

: Kokstad, South Africa



Would love to show folks the progress and upload the photo's but having no joy what so ever with the uploading of photos. Never known a system so hard to use!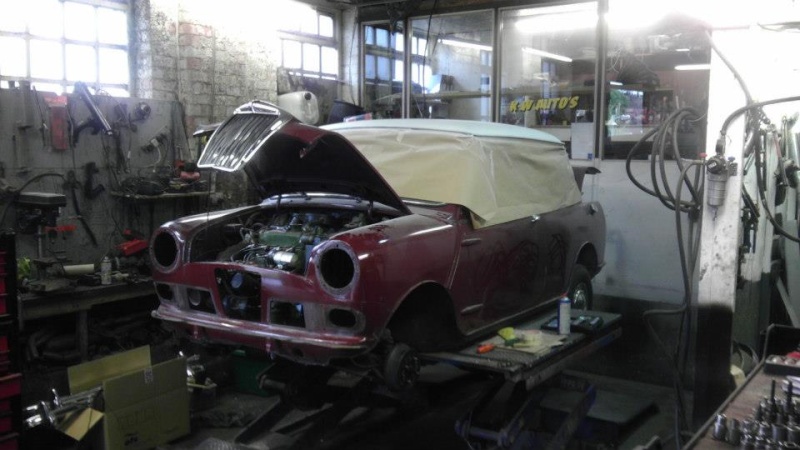 How Molly looked about 3 years ago, this is the earliest photo I have of her. When she was purchased she was in full working order, although it soon became apparent that all was not right and some areas were in need of attention, however we didn't envisage a full nut and bolt restoration.
Now I've figured out how to upload a single photo, all I need to do now is figure out how to do it for an albums worth.
nice one  




Posts

: 1224


Points

: 5051


Join date

: 2008-11-02


Age

: 53


Location

: Chislehurst -



Some really nice work you've done there so far.



Posts

: 624


Points

: 3271


Join date

: 2012-02-21


Age

: 26


Location

: Kokstad, South Africa





Similar topics
---
Permissions in this forum:
You
cannot
reply to topics in this forum