Does anyone know if the Elf/Hornet take the same license/numberplate lamp housing as the MG Midgets or MGBs?




Posts

: 42


Points

: 2185


Join date

: 2012-07-31


Age

: 66


Location

: New Jersey, USA



Although the MG Midget / MGB Number Plate Lamps look similar to those used on the Hornet & Elf............
the essential difference is that both MG lamps are made to sit on rear bumpers which have a rounded/curved profile.
Whereas the Elf / Hornet bumpers have a flat surface and their lamps have a corresponding flat base.
So sorry - no go.



Posts

: 231


Points

: 3056


Join date

: 2010-11-22


Age

: 74


Location

: Dublin, Ireland



Mike, I think the upper part of the L534 lamp holder is the same as the MGB/Midget ones, but the base is different. The L534 shows up on Ebay.co.UK pretty regularly, but be very careful because there are some reproductions being sold as direct replacements that are NOT. If you look at the way the original one go together, the base screws onto the car, and the top part screws onto the base. The holes on the base are offset diagonally (look at the mounting holes on the bumper) but the ones being sold as replacements have two bolts going all the way through, so one would need to drill new holes into the bumper to make them work. Essentially, they are just selling the upper part, though they have combined it with a bulb holder, and left out the mounting base.
This is a proper one, notice the mounting bolts are inboard of the upper housing bolts.
This one won't work.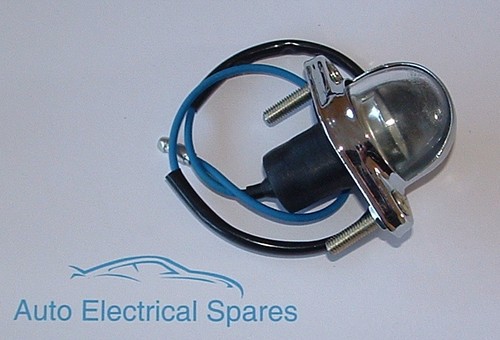 Last edited by Red Riley on Sat Sep 20, 2014 10:51 pm; edited 2 times in total
_________________
Click here to see my latest project!
. . . . . . . . . . . . . .
Click on the banner above to see my photo gallery.
Admin




Posts

: 1194


Points

: 4743


Join date

: 2008-10-27


Age

: 59


Location

: Johns Island, SC, USA



Brian, I've spoken to the MG parts people here in Ireland and they concur with both of our comments.
Replica Hornet / Elf lamps are of course available on line from the usual suspects and occasionally on e-bay.




Posts

: 231


Points

: 3056


Join date

: 2010-11-22


Age

: 74


Location

: Dublin, Ireland




---
Permissions in this forum:
You
cannot
reply to topics in this forum