Hi All,
I've just joined this forum to learn about Hornets because having just sold my previous classic car of 16 years I now hope to buy a MkIII Wolseley Hornet and I'm currently looking for one.
A friend of mine mentioned she'd seen a Hornet parked regularly on a main road in Glasgow near to the place I work in, so I took a wander up one lunch-time and there it was just where she said it was.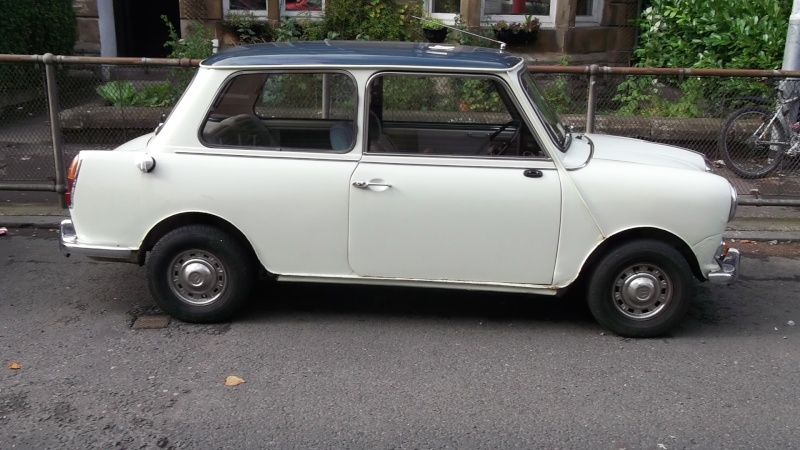 The car is tidy and all there as best I can establish, however despite having owned several Mini's in the 1970's this wee Hornet is a new direction for me as its an Automatic. I'm just exploring all the options if the owner is amenable to selling it to me, which leads me to my post here - if the gearbox is damaged will the engine block fit a standard manual box and associated running gear?
Many thanks, WeegieBob.

Bob,

The engine on the automatic box won't fit a manual box. You'll need a complete replacement unit if the gearbox can't be fixed. You'll need to give Clarke at Mcdonald Minis near Edinburgh a call regarding the gearbox, he knows his stuff regarding them. If you intend changing the unit for a manual there are a lot of parts to source, many of which are getting hard to find. Unless you visit my loft! Looks a pretty clean late Hornet though.

kev
Many thanks Kev, a really useful and helpful post - I'll drop into Macdonald Motors (after I've called to see when would be convenient for Clarke) and have a chat with him as he sounds like a very useful contact.

He might even be able to point me in the direction of a Hornet for sale as since my original post the note I'd left on the Hornet mentioned above has been removed, but sadly no phone call.
Once again kev, many thanks for the lead, its a very tidy Hornet even if it is an Automatic.

I've eBay messaged the seller asking a couple of questions, just need now to wait and see.
Disappointing news I'm afraid kev, the vendor replied this morning to say the car had been sold.

I was a wee bit too slow and to use an Americanism - 'You snooze, you loose!'
But thank you nevertheless for the lead, it was well worthwhile exploring.

Okay, was worth a shot. Don't often see them for sale up here.

Kev


Similar topics
---
Permissions in this forum:
You
cannot
reply to topics in this forum